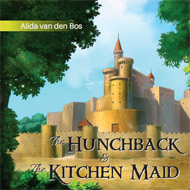 Princess Isabella thought her father, the king, had put on a great ball for her 18 birthday, but it turned out not to be the case. Instead Isabella was thrown into the kitchen to work as a kitchen maid.
Isabella was upset, but a good fairy came and made her a beautiful ball gown, telling her to go out there and just mingle with the guests. When Isabella saw the hunchback on his own, she felt there was something different about him, so went and danced with him.
The hunchback fell in love with her, and to help her escape from the mean King, he ordered his witch to make a pill so Isabella could turn into a cat and escape.
But who was this hunchback, and why was he so different? Find out what happened in Alida van den Bos new book, The Hunchback and the Kitchen Maid.