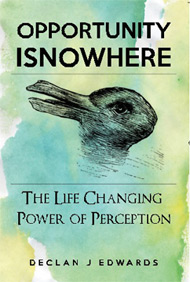 Does life overwhelm you? Do you feel that no matter how hard you try nothing seems to be changing? What determines whether you enjoy a life of success, fulfillment and joy compared to struggling through a life of merely getting by?
By asking the tough questions, and using real-world examples, OPPORTUNITYISNOWHERE provides an insight into the life changing power of your perception across the seven major areas of your life; health, career, finances, social life, romantic relationship, personal growth and self-perception.
Throughout the book you will be pushed, challenged and encouraged until you are empowered by the knowledge that not only are you creating your experience of life, but that you also have the power to change it in a heartbeat. In a single moment you could choose to escape a life of meaningless routine and emotional suffering and instead enjoy a life abundant with success, fulfillment and flourishing.
Make that choice today.
"Declan's coaching can take your life to a whole new level" – Dr Espen Hjalmby, International Speaker and Health Coach
Declan Edwards is an author, Personal Empowerment Coach, keynote speaker and the Founder of BU Coaching. He is passionate about helping people overcome self-doubt, cultivate self-confidence and live authentic and exceptional lives. Get to know more about Declan by reading the 'about the author' section inside the back cover.