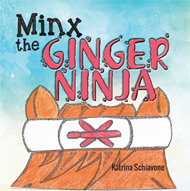 Minx the ginger ninja is about a kitten's journey to self-belief.
How she faces and conquers her fears, becoming the cat she has always wanted to be, through the ancient martial art of Karate.
First time author and illustrator Katrina Schiavone has been inspired by her love for animals, especially her own fabulous feline.
Being a dedicated veterinary nurse for the past 18 years has allowed her to gain incredible insight into the amazing world of animals. There cheeky, playful, unpredictable and hilarious behaviours have inspired Katrina to develop this book.