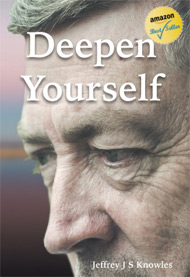 In this book, Jeffrey J.S. Knowles challenges us to think deeply about our lives. We are surrounded by a rich, fascinating and sometimes confusing World. Yet great conversations with others can reveal avenues of investigation that can benefit every reader of the book.
So how can we think more deeply about the issues that most concern us? You'll find answers and ideas in "Deepen Yourself – Waking to the World Within".
Jeffrey J. S. Knowles is a teacher, an artist and a sustainable energy enthusiast. In this book he reveals the core wisdom which continues to flow through his lessons and his life. In doing so Jeff charts a pathway for the reader to become a more whole, integrated person. This is achieved by firstly considering mindful, thought provoking questions and then, secondly, by raising deeper topics to be considered once those questions have been asked. This is also a great reference book – to connect readers to books, essays, videos and films that will further their journey.
There is much in "Deepen Yourself – Waking to the World Within" for readers in all walks of life, and upon completion, many will want to reread sections as they begin some great conversations with others, while also witnessing connections within their own life's journey.
© Jeffrey J S Knowles Published by Inspiring Publishers. May 2017
About Author: Jeffrey J. S. Knowles
Jeffrey J.S. Knowles (Jeff) is a teacher with thirty-five years' experiencein many parts of Australia. Early on in his teaching career, he discovered he had the ability to relate to students of all ages. Therefore many students have chosen to remain 'in touch' with him and report exactly what lessons have stayed with them. Those lessons have become a 'library' of valuable experiences.
Upon reflection, the majority of these 'memorable' lessons had to do with 'values stories'. Hence for the last 20 years, Jeff has been involved in developing curricula of Values Education at Primary and Secondary school levels. While teaching a range of classes across a number of different schools, it was clear that some of the material he wanted to cover was, in fact, too mature for the students' stage of development. Jeff put this material to one side, and now in the form of "Deepen Yourself – Waking to the World Within" he is sharing it with the public for the first time.
Over the last twenty years, Jeff has also been asked to teach adults in a tertiary capacity, and this experience has also added to his repertoire. In particular, he was offered the opportunity in 2006 to travel extensively through Australia and New Zealand and address many teachers in the Values domain of education.
Additionally, two threads happening in his life have inspiredhim to give a deep, transformational message to readers of all ages and walks of life.
Firstly,Jeff has chosen to undergo significant healing in order to operate at 'maximum efficiency'. This healing has happened on three inter-penetrated levels and it is now clear to him how those levels inter-relate. Jeff would like to share these insights with adults wishing to deepen themselves and become more whole.
Secondly Jeff sees a progressive 'drift to materialism' and a 'skating across the surface of life' beginning to dominate our western society. The prolific mass media is littered with statements about money and materialism that reflect an attitude devoid of wonder at creation. In many placespeople can be observed looking down at their mobile phones, even as they travel on public transport through some beautiful countryside. Jeff would thereforeencourage adults in developing the ability to more often 'look up' from their phones and from their resigned attitudes towards their lives.
Jeffrey J. S. Knowles is an accomplished public speaker. He is widely travelled and has a good understanding of different cultures.