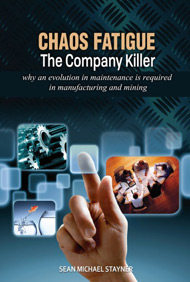 This book Chaos fatigue – the company killer is compiled using information, experience and results from over 20 years of managing change in the manufacturing and mining industries.
This book captures the issues and solutions to major problems that are holding these industries back.
This book identifies a series of significant issues that are stifling output and robbing manufacturing and mining companies of valuable profits. Practical and hands on, this book captures industry's biggest efficiency issues and presents successful solutions to these ongoing debilitating and profit robbing plant issues.
As manufacturing and mining have been declining in the west, this book demonstrates that these industries have been looking at the wrong place to increase efficiency.
This book demonstrates how a directional change in capital intensive industries, like manufacturing and mining, will increase plant efficiency, profitability, and long term stability.
This book will be of value to people wishing to understand manufacturing and mining, and for industry managers on the front line to the executive level, setting them up for guaranteed improvement success.
About the author
Sean Michael Stayner is a specialist change manager with an engineering background, Mr Stayner has worked managing change and efficiency improvement in the mining and manufacturing industries around the world, for more than two decades. From this work Mr Stayner has been able to identify serious issues in manufacturing and mining companies that are robbing these companies of significant profit.
Mr Stayner has been a very vocal advocate for the need for a change in focus in the way we look at equipment intensive industries. These specific changes, that Mr Stayner is advocating, have consistently demonstrated that tens of millions of dollars, and in some cases more than a hundred million dollars, of profit can be delivered to a company's bottom line, in less than 12 months.
As a consequence Mr Stayner is a regular guest lecturer at Queensland University of Technology and is a guest speaker at conferences around the world.